Free delivery on all products

. . . . . . . . . . . . . . . . . . . . . . . . . . . . . . . . . . . . . . . . . . . . .
New year, new interior - our 5 most loved looks for 2021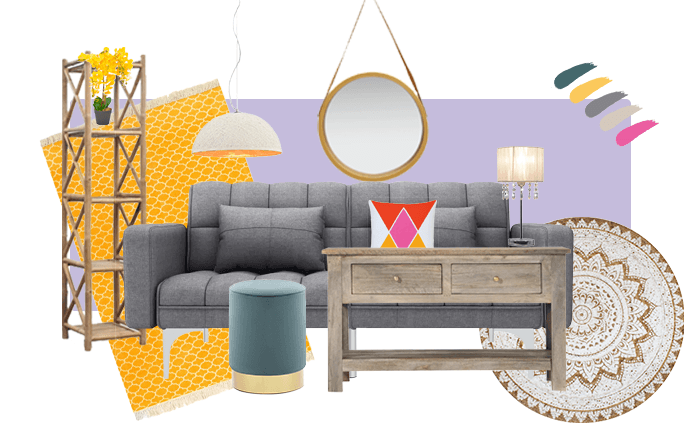 The year 2021 is finally here, which means it's time to redecorate, refresh, and allow new energy into the interior of our homes. With many of us making New Year's resolutions to improve our work and health goals, why not add our homes into this resolution?
Our homes are, in fact, our rest havens where we spend our mornings, evenings, and nights creating a space for clarity, safety, and togetherness. With our 5 most loved looks for 2021, let us bring back the feeling of purchasing a new home and buying mixed treasures to reflect our personality. Let's bring back the excitement of purchasing a new bed and being impatient to take it for a long night's sleep, or that beautiful office desk and chair ready to do your best work in! It's sort of like buying a new outfit you cannot wait to wear, furniture is the same, but we do not wear it we use it every day! So let's bring back the WOW factor into our homes with these 5 most loved looks at affordable price points, sort of like our very own affordable luxuries.
1. Light woods
The new found love of minimalism is calling for light woods in 2021. Light coloured woods create a shade of warmth and pair perfectly with white tones and cool colours. Try to add a pop of vibrant yellow in the mix to bring a splash of energy. Time to step away from the medium to dark coloured woods and embrace the blonde & rustic shades of recycled wood.


2. Cozy cottage
Do you ever dream of being away in a little cottage in the woods while taking a break from reality and screens? If so, try incorporating some aspects of the cottage life into your home. Ideally, a home with natural character pieces such as beautiful wood floors, brick walls, exposed beams, or panelled walls would be considered a perfect match for this fairy-tale type look. It creates the perfect balance of old and new.


3. Metal, metal, & more metal
Unusual metal applications are in the forecast to be used as highlighting points throughout different elements of furniture and home decor. The metals will range from copper, brass, and stainless steel with black, gold, or silver tones.


4. Pops of colour
Break down your walls and try something new! Have you been thinking about a bright yellow couch or leather print rug? Whatever your mind thinks is crazy, it is not!! Have fun with this and bring vibrant energy into your home. Incorporate pops of colour by painting an accent wall, adding colourful decorative pillows, a new bright lampshade, or fabulous wall art. The new Pantone colour of 2021 is a bright, vibrant yellow and cool tone grey, symbolizing energy and optimism for the year to come. Try to use this as a reference if you get stuck and have fun with it!


Integrate plants into your interior with hand-crafted potted and hanging plants that give your home a little extra natural sparkle. Plants are not only lovely decorations, but they also are beneficial to our mental and physical health. Start by creating your very own plant oasis that brings you into daydreams of sunny tropical destinations.
. . . . . . . . . . . . . . . . . . . . . . . . . . . . . . . . . . . . . . . . . . . . .