. . . . . . . . . . . . . . . . . . . . . . . . . . . . . . . . . . . . . . . . . . . . .
10 ideas to decorate your balcony
Garden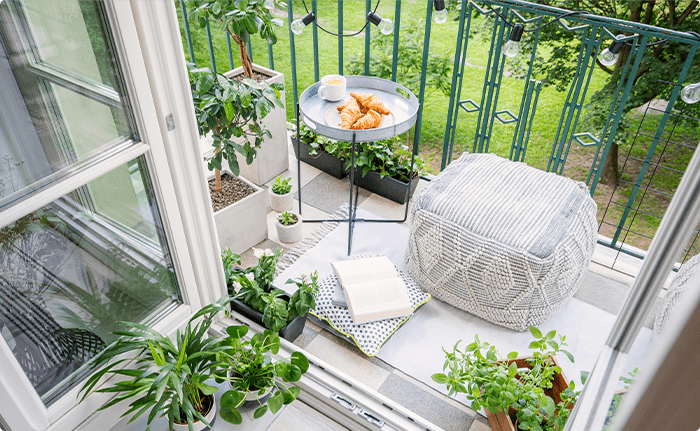 We often talk about taking care of and decorating gardens, but today we want to focus on another outdoor space: the balcony. In this blog we'll share 10 quick and easy ideas to transform your balcony from a boring city garden to your own fresh and green paradise.
Let's get started!
1. Start a plant collection
One of the easiest ways to make your balcony more cosy is by adding some plants. There are several options for smaller and bigger balconies. If you have a big balcony, adding some big planters with bamboo or other grass-type plants are great as statement pieces. If you have to make do with lesser space, hang some planters from the ceiling or mount them to the wall, or add planters to your balcony railing instead.
2. Comfy seating is key
Your balcony should be a place to relax, so make sure you choose comfy furniture. Also, consider the purpose of your furniture. Are you planning to have outside dinners often or do you want to create a space to relax and read for example?
3. Outdoor rugs to bring it all together
Adding a rug to your balcony or terrace is right on trend right now. There are plenty of options to choose from: large rectangular rugs with a fun print or round jute rugs for a boho vibe.
4. Herb garden or even a small veggie garden
Some vegetables and herbs are perfect to grow on your balcony. Add some cherry tomatoes, bell peppers, basil and oregano and you can make your own pasta sauce! Make sure to check if there is enough sunlight for the vegetables to grow!
5. Swing the day away
If you have a balcony with a ceiling, you can add a swing chair or swing bench. Not a fan of drilling in your ceiling or you don't have one? A hammock also does the trick. Close your eyes and start swinging yourself to more tropical destinations!
6. Cover up your concrete floor
Most balconies come with a concrete or grey floor. If you want to change your style from industrial or modern to boho, for example, you can easily cover this up with some wooden tiles. The wood will instantly create a warmer feeling and with the right accessories, it will give your balcony a total makeover.
7. Cosy evenings with the perfect lighting
Add some lighting so you can stay out when the sun has already set. Instead of adding candles and making sure the wind doesn't blow them out and nobody knocks them over, add some light strings or lanterns on the railing. Solar lights are also a perfect and energy-saving solution.
8. Bright colours
Adding bright coloured throw pillows, rugs, blankets and other accessories is the perfect way to brighten up your balcony.
9. Create privacy with a room divider
Next to adding plants, another way to create a more secluded space is by adding a natural-looking room divider. Reed or bamboo mats will also do the trick!
10. Determine your view
Determine what you want to look at while sitting on your balcony and if you can see your balcony from the living room for example. Think about the placement of your furniture, plants and accessories, so you have a nice view when you're inside and when you're sitting outside.
. . . . . . . . . . . . . . . . . . . . . . . . . . . . . . . . . . . . . . . . . . . . .