High discounts on popular products
The new year is still brand new! That means it's time for our vidaXL winter sale again. We have made a selection especially for you from our wide range of products, so you can shop our products even more efficiently.
vidaXL is already known for competitive prices, so during our winter sale you can expect something extra from us. Get ready for a fresh start of the new year and have a look at our products!
On our web-shop you find products with brand vidaXL that have a striped price and the current price. The striped prices of products with brand vidaXL are based on the price history of the last months.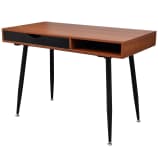 Brown Workstation Computer Desk Laptop Table